Bali is enjoyably sunny during most of the dry season. However, occasional downpours are common at any time of the year. Even when the skies turn dark grey and the roads are wet from drizzly to heavy rains, Bali still offers numerous activity options.
Discover Balinese cuisine, special spices and ingredients, and how to prepare them through fun cooking classes, or indulge in a soothing spa treatment. You can also take your family or friends to see various shows that merge traditional tales with high-tech sound and lighting. The weather may turn dull, but with many choices, your holiday in Bali will never be.
Interested in this tour? Book it here.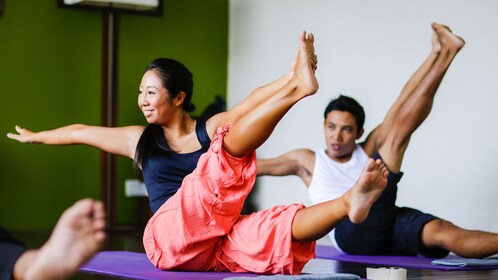 per traveler
Free cancellation
Book
Balinese spa treatments are one among the main reasons spa-goers come to the island. You can enjoy the unique Bali spa experience at many spas around Bali, which offer exotic treatments incorporating aromatic tropical ingredients, and most of all – the skilled hands of the Balinese therapists who deliver the range of massages, scrubs, facials, and traditional techniques. Read More...
Raining in Bali? Another perfect shopping day! Look inside the many choices of expansive shopping complexes available at the main areas such as the Kuta Beachwalk, the Discovery Shopping Mall and the Mal Bali Galeria in Kuta, or the Bali Collection in Nusa Dua. These shopping havens offer various items, from souvenirs and antiques, fashion and accessories and a whole lot more. Read More...
What better on a wet day than to just go underwater? There are some choices in Bali, either half wet or absolutely dry. Marine or sea walks enable even non-divers to experience the underwater beauty to see or directly interact with schools of tropical fish and admire coral reef gardens with the aid of a specially designed, air-supplied helmet. Submarine tours are for those who want to remain absolutely dry throughout the tour! Read More...
Wanting to learn more about Bali's rich history and to view the vast collections of artworks by Bali's artisans? Museums provide insights into the island's make up, even when skies are grey and streets are wet. Many museums and galleries are available throughout the island. Some of these, such as the Agung Rai Museum of Art (ARMA) feature scheduled highlights that make for a convenient full-day tour. Read More...
Over time, Bali has also grown into a destination for natural health and wellbeing, with yoga centers providing classes, and schedules featuring invited instructors from all over the world providing different branches and forms of yoga. Pair the choices of exercise with healthy organic meals, and you'll have yourself the healthiest holiday ever, no need to worry about catching the seasonal cold due to the weather! Read More...
Learn the art of Balinese cooking, get into the know-how of mixing various herbs and spices with meats, poultry and seafood. You will soon know how to make your own dishes, such as sate lilit and traditional Balinese salads and mixes such as the sayur urap. Most tours start off with a traditional morning market or fish market tour to buy the raw ingredients. Read More...
There are many art forms and crafts in Bali, and many reflect age-old heritage and practices. Silver crafts and jewellery-making is one of the important Balinese heritages, and you can gain insight into the crafts and know-how of the Balinese silversmiths through notable studios and workshops in the main villages of Celuk, Mas and Ubud in the Gianyar regency. Read More...
Bali also hosts modern shows featuring dramatic lighting and sound systems, as well as a cast of the finest dancers and choreographers in the archipelago. The sequences are inspired by legends and folklore, such as that of the Bali Agung Show at the Bali Theatre of the Bali Safari & Marine Park, which draws inspiration from the tale of King Jayapangus and Barong Landung; while the Devdan Show at Nusa Dua Theatre takes the audience on a journey throughout the archipelago. Read More...
Enjoy some great indoor fun and games at these relatively new activities in Bali. You and your friends can strike some really whacky poses at the Dream Museum Zone, all against specially created three-dimensional paintings that will turn out super cool in photos. There's also an Upside Down World where everything's inverted to give out that gravity-defying effect. Try escape room challenges such as the Totem Room Escape for some brain games that put your inner sleuth to the test. Or for something more active, there's the Bounce Bali trampoline centre in Canggu that kids will love. Read More...
When the drizzles come, you might as well splash to your heart's content! There are three main waterparks on the island, featuring various water slides and 'rides' as well as lazy pools and swimming pools that offer different levels of thrills and leisure. Waterbom Bali is located in the heart of Kuta; the New Kuta Green Park is located far up in the Bukit near Dreamland Beach, and Circus Waterpark is on the outer boundaries of Kuta. Read More...
Rate This Place:
( votes)