Here's how to rent a car in Bali. With so many things to see and do on the island, it's one of the best ways to get you around, enabling you to explore the sights and attractions of the island at your own pace, freely and at a lower cost when compared to taking multiple rides by taxi. Moreover, by renting your own car, you can enjoy spontaneous stopovers and create your own adventure.
This page aims to provide you with tips on how to rent a car in Bali, together with all the details and advices that you need to know, to ensure you have a smooth, safe and pleasurable time on the island. Be it driving through the central highlands to see Bali's mountain temples and lakes, or traversing the southern peninsula for its collection of great surfing beaches, your road starts and ends only whenever you decide. Safe journeys! Or, as locals bid you, "Selamat Jalan!"
Interested in this tour? Book it here.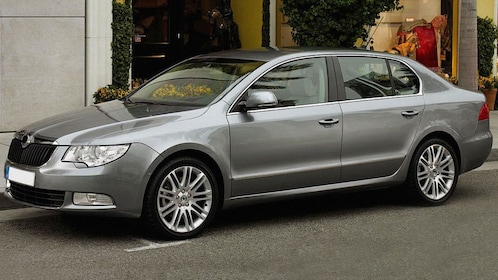 per traveler
Free cancellation
Book
How it works
Renting a car is safer than a motorbike, with the most common types being mini SUVs and hatchbacks. These go by local models such as Toyota Avanza and Toyota Agya, although brands and models largely vary across car rentals in Bali. You can either choose from daily rental services, whether chauffeured or self-drive, the former being with a driver's fee added to the rates, or weekly and monthly services. Some companies also offer a guide in addition to a driver.
Car rentals can also be arranged through your hotel's concierge desk, and are a good option if you're a long-staying guest. Repeat guests can get along well with rental owners, especially if their cars are always returned in good condition, often leading to discounted rates for next hires.
There have been multiple cases of rentals having their cars stolen, so don't be surprised if owners or companies can be quite pushy at times. If you don't report your car in over 48 hours from the agreed return time and date, they won't hesitate to file a police report for car theft.
Do you need an international driver's license?
If you're self-driving, yes. It's mandatory, actually. Traffic police in Bali have made it somewhat routine, stopping and checking drivers foreign-looking. Usually your home country-issued international license in addition to your regular driver's license, is enough. But in the event you aren't able to show them, be prepared to be 'asked' for anywhere between IDR 200,000 to 500,000, or whatever you have in your wallet (it is common here).
You can apply for a temporary tourists' license (with limited validity) at the international services of the Poltabes (city police headquarters) on Jalan Gunung Sanghyang in West Denpasar. You will need to present originals and photocopies of your passport, KITAS permit, and pay a fee of around USD 25 (IDR 250,000-300,000). Similar requirement goes for expats, who can get a longer valid 'SIM A' drivers' license for cars (not eligible for motorcycling).
Be aware that many car rental shops will offer you a Police Report for your 'lost International Driving License', which in reality never existed. Many people do this as a way to get around the law, but if you have an accident it may cause you problems so we don't condone this.
Does it come with insurance?
Major rental companies include insurance in their rental rates. Small locally run operators vary. Predetermine or check with your concierge.
How much on average?
Depending on the type of car, daily rentals are normally USD 10-30 (IDR 150,000-400,000). Automatic transmission cars are usually USD 5-10 more expensive than manual gears.
Tips and advices - what to check for
Day rentals are 24 hours, and should you exceed the use, you will normally be charged for additional hours, ranging between USD 5 (IDR 50,000-75,000) per extra hour, or a full day's rent for over three extra hours. This is usually advised up front, but it is good to call and inform them should you wish to use a few extra hours without being charged for another full day.
Check for the overall condition, inside and out. Inspect the car's body for any scratches or dents and have the rental managers/owners knowledgeable if you find any. Also, tyre pressure and tread conditions, and fully functional air-conditioning. And finally, fuel. Most companies give a quarter tank-full, while others full, inclusive with the rate.
Driving Advice
Driving in Bali, as in most of Southeast Asia, is on the left hand side, with the driver's seat and steering wheel on the right. Driving a car in Bali can be stressful, with chaotic traffic and many motorcycles (scooters) that zigzag in and out, and seem to defy road rules (which also seem non-existent, or nobody seems to care).
Unprecedented road blocks, be it ritual temple pilgrimages and religious processions, are also a thing in Bali where you may get stuck along your way to or from your point of travel – for up to half an hour or more. Watch your fuel level and stock the car some munchies and drinks.
Where and How to find them
Some locally-managed car rentals can be found in most popular resorts such as Kuta, Legian, Seminyak, Nusa Dua and Ubud, with signs clearly bearing, "Rent a Car". It's easier to ask your hotel's concierge, who might also refer and arrange for you. Major reputable car rentals in Bali include national operator TRAC Astra Rent-a-Car with its branch office at the Ngurah Rai International Airport, and its head office on the Ngurah Rai main road.
Rate This Place:
( votes)