Mark these best luxury spas in Bali for your next plans for relaxation, be it only a soothing body massage using fragrant massage oils and traditional Balinese techniques, to fully extended day packages that enable you to totally unwind. Bali has developed into one of the world's best spa destinations, and the prolific facilities and wellness centres available on the island means they race to provide their best, leaving us spa-goers with only the finest to choose from.
Most are also attached to among the island's most prestigious resorts, although not exclusively for in-house guests, promising five-star quality services, and often stunning designs, locations and views. While Balinese-style treatments remain a highlight, each offer recommended signature packages and experiences that set them apart. Enjoy your special time, alone or as a couple, at these best spas in Bali. A day at a spa can be the highlight of a relaxing holiday so make sure you choose the right one for you!
Interested in this tour? Book it here.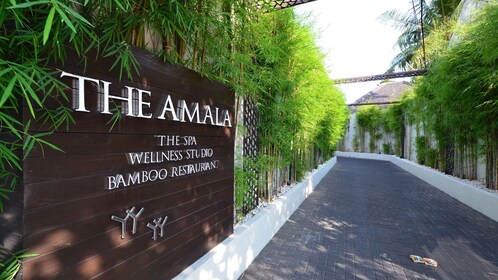 per traveler
Free cancellation
Book
This spa-goer's paradise at the Ayana Resort in Jimbaran offers a complete spa experience. Firstly, its 'thalassotherapy centre' is home to one of the world's largest aqua-tonic seawater pools, complete with jets and comforting nooks for toning exercises and relaxation. Most signature body treatments start from IDR 1 million. Secondly, it has the most stunning spot to have a massage; literally set on top of a rock at the base of a high-rising limestone cliff, with the waves of the Indian Ocean crashing at its base serving as natural white sound. Exclusive settings are paired with splurge options – if you have some USD 500 (IDR 7 million) to spare you can have the most exceptional spa experience, an extravagant 2.5-hour Diamond Miracle with 'diamond dust' for facials and a feast of strawberries and chilled champagne. Read More...
Opening Hours: 08:30 – 20:00
Location: Ayana Resort and Spa Bali, Jalan Karang Mas Sejahtera, Jimbaran
Tel: +62 (0)361 702 222
Up in the cool Ubud highlands, Maya Ubud takes pride in its two separate spa complexes, with its riverside spa as the true standout feature. Walking to this spa is part of the experience, along wooden riverside boardwalks to treatment pavilions where you enjoy the sounds of nature and the rushing Petanu River below with your treatments. Couples and honeymooners can opt for the ultimate spa experience, such as the two-hour River Breeze that includes a soothing massage, body mask and refreshing earl grey body lotion. Some of the packages include herbal and flower baths in copper tubs that fit two, with semi-open air but private settings overlooking the secluded forest and river. The resort's main spa complex lies on the eastern side of the resort's valley grounds. Treatments range between USD 49-85 (IDR 655,000 - 1,140,000). Read More...
Opening Hours: 08:30 – 20:00
Location: Ayana Resort and Spa Bali, Jalan Karang Mas Sejahtera, Jimbaran
Tel: +62 (0)361 977 888
Neighbouring the legendary Royal Pita Maha in Ubud, this spa by renowned Japanese beauty care company Shiseido is set against the tranquil Ayung River Valley. Set far from the main road, its location and terraced landscaping that follows the contours of the valley side allows for impressive views and setups. Cobblestoned footpaths through lush flowering gardens with water features dominate open spaces, while treatment villas have their own private swimming pools, hot and cold Jacuzzis, dry and herbal mist saunas, showers and a dedicated relaxation nook. The ultimate experience is the 330-minute Royal Retreat USD 375 (IDR 5 million) that includes Balinese massage, facials, free use of the in-villa's facilities, and a light meal at the spa lounge and garden. Read More...
Opening Hours: 09:00 – 21:00
Location: Jalan Raya Kedewatan, Ubud
Tel: +62 (0)361 976 333
As one of the best yoga retreats and wellness centres on the island, Fivelements offers a selection of beauty and spa rituals that will appeal to spa-goers looking for a beautiful and peaceful setting with a focus on healing and healthy living. Options include Balinese inspired treatments such as a traditional 'boreh' body scrub using local herbs, and a luscious two-hour chocolate treatment that includes antioxidant cacao-almond scrubs, warm chocolate body wraps and massage using cacao butter. This sensual 'Chocolate Love' package is available for couples at USD 188 (IDR 2,500,000). Treatments start off with a floral footbath and finish with choice of herbal teas as you relax by the river. Read More...
Opening Hours: 09:00 – 21:00
Location: Banjar Baturning, Mambal, Abiansemal, Badung
Tel: +62 (0)361 469 260
This gorgeous spa hangs over the northern valley of Ubud's Petanu River, and forms part of the winning panoramas of The Viceroy Ubud. Lembah Spa presents short, half-hour treatments and up to 2.5-hour experiences. Several packages are catered to couples, while one its main signature treatments, the Feminine/Masculine package USD 175 (IDR 2,350,000) offers 150 minutes of pampering for men and women, differentiated by only the aromatic body scrubs used based on skin sensitivity. Following a full massage, a steam bath and Jacuzzi ensues, together with exfoliating scrubs and another round of massage using essential oils. Best while you're here is to opt for the combination packages that let you experience the resort's two wonderful highlights. Spa and lunch or dinner at USD 128 (IDR 1,700,000) includes welcome drinks, footbath, Balinese massage, facials, steam bath, pool and Jacuzzi, and three-course feast at Cascades. Read More...
Opening Hours: 09:00 – 18:00
Location: Jalan Lanyahan, Br Nagi, Ubud
Tel: +62 (0)361 971 777
The signature spa facility at Karma Kandara Resort in Ungasan, on Bali's southern Bukit peninsula, offers a holistic approach with personalized experiences. The spa features treatment 'huts' overlooking the Indian Ocean from the resort's high cliff location, while an open-air platform serves as the spa's centrepiece with a sauna and saltwater pool. While you can enjoy great 'spa journey' packages such as the aptly named 135-minute Traditional Balinese Spa Ritual at USD 112 (IDR 1,500,000) that includes traditional Javanese inspired floral scrubs, an infrared detox sauna or steam ritual and Balinese massage, you can alternatively head down to the cliff base at the spa tents on Karma Beach for wonderful massage sessions. Read More...
Opening Hours: 09:00 – 21:00
Location: Jalan Karma Kandara, Banjar Wijaya Kusuma, Ungasan
Tel: +62 (0)361 848 220 2
Uniquely named, the spa at Kupu Kupu Barong Villas features a set of six exclusive treatment rooms that are uniquely designed in the style of bamboo tree houses, but filled with luxurious amenities dedicated to spa treatments. They overlook the valley and are surrounded by leafy forests and mango tree canopies (hence its name), making them the only 'nest spa' of its kind on the island. Also, a steam room carefully designed and considered the island's largest, offers an experience like no other. Among the various treatments offered, try the signature one-hour Mango Tango USD 102 (IDR 1,360,000) that incorporates Swedish massage combined with Chinese acupressure and the long strokes typical to Balinese massage. Treatments are delivered using L'Occitane's own signature mango oil. Read More...
Opening Hours: 09:00 – 21:00
Location: Kedewatan, Ubud
Tel: +62 (0)361 975 478
The most relaxing space at Soori Bali, Soori Spa welcomes you to subtly lit interiors with dark sandstone and black tiles let you ease your pupils as you enter this soothing realm. The treatment menu features a mix of Asian and western therapies using Soori Spa's own special line of 'natural active' spa products. There are treatments focusing on deep tissue, relaxing, nurturing and even special pregnancy massages for expectant mothers and treatments for kids. Spa villas each come with their own private entrance with herbal steam shower and bathtub, separate grooming stations for men and women, and individually controlled sound system with personal music selections. Ladies will love the Balinese 120-minute Beauty Ritual at USD 155 (IDR 2,050,000), which includes Balinese 'lulur' scrub, Balinese massage, a skin-softening body mask and brightening facial. You can even ask for interchangeable products to suit your liking. Read More...
Opening Hours: 09:00 – 21:00
Location: Banjar Dukuh, Desa Kelating, Kerambitan, Tabanan
Tel: +62 361 894 638 8
The Spa at the Bulgari Resort Bali offers a relaxing cliff-top spa experience, with luxurious treatments delivered by a team of skilled therapists, from deep massages using exotic oils and herbs, to hot stone massages using smooth, black volcanic stones. Inspired treatments are a combination of Balinese, Asian and European techniques, and treatments for couples include an ultimate three-hour 'escape for two'. Enjoy pampering sessions at the ocean's edge, with the soothing sounds of the waves crashing at the cliff base. Private spa pavilions feature a whirlpool, an outdoor living space and an outdoor plunge pool. A package aptly called The Escape, for couples, is available at USD 750 (IDR 1 million), while individual body treatments start from USD 65 (IDR 870,000). Read More...
Opening Hours: 09:00 – 21:00
Location: Jalan Goa Lempeh, Banjar Dinas Kangin, Uluwatu
Tel: +62 (0)361 8471 000
Perhaps the only big spa facility in Bali that features a design with striking architecture strongly influenced by India and the Middle East, Prana Spa in Seminyak welcomes you to totally escape from the hectic scenes of Seminyak. Try Simple Bliss, a package that gets you pampered from head to toe for two hours. Prana is also famous for its Shirodhara USD 5 (IDR 70,000) treatment that aids you into deep meditational sleep by dripping warm oil onto your forehead, while the therapist delivers soothing and slow massages. Or for a more complete package, there's the 180-minute Pampering of Prana USD 90 (IDR 1,200,000) that begins with a wade into hot and cold pools, foot reflexology and their signature body massage, facial, rhythmic scalp massage and hair cream bath. Read More...
Opening Hours: 09:00 – 21:00
Location: Jalan Kunti, Seminyak
Tel: +62 (0)361) 730 840
Rate This Place:
( votes)