If it's your first trip to Yogyakarta ('Jogja'), these are our top tips for where to stay and what to do in this vibrant cultural city. Most of the action and attractions are focused around the royal Keraton palace, which is surrounded by well-preserved remnants of the past, contrasted against modern buildings, with busy streets and street hawkers.
Here, you'll find some of the most popular highlights of Yogyakarta, ranging from historical landmarks, to attractions where you can witness heritage arts living on through live theatrical performances. The mix of old and new similarly applies to the shopping options available in Jogja, with rows of classical batik shops set alongside modern shopping malls.
Yogyakarta is a fascinating city and offers much to discover. This mini guide shows you where to start. It's certainly possible to travel to Yogyakarta from Bali during your trip.
Interested in this tour? Book it here.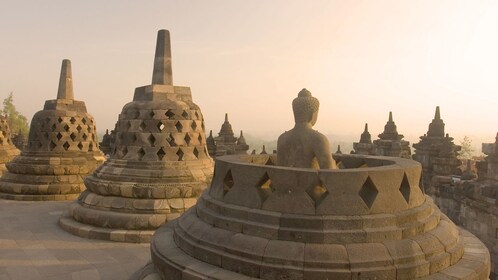 per traveler
Free cancellation
Book
What to Do in Yogyakarta
Best Historical Landmarks in Yogyakarta
Jogja is a popular stepping stone for visiting some of Java's most impressive historical landmarks, including the Borobudur Temple site in Magelang up north, and the Prambanan Temple complex east of town. Both are within an approximate hour's drive from the centre of town. It is possible to do both temples in one day; however, you should allow for one full day at the least.
Nevertheless, discovering Jogja town can easily take up a single day, especially around the royal palace neighbourhood of the Keraton (full official designation: Keraton Ngayogyakarta Hadiningrat). You can explore this calm and dignified site on foot, however, keep in mind that it is a vast 1.4Ha complex. Nearby, is Taman Sari, a restored water castle built 1765, with bathing pools and towers, and a series of tunnels and rooms connected by staircases that surround a well.
The square Vredeburg Fort on Jalan Jenderal A. Yani was built in 1760 and has been turned into a museum, containing countless dioramas that depict the Indonesian struggle for independence. Each are accompanied by descriptions to better explain the various important episodes in Indonesia's history. The Dirgantara Mandala Air Force Museum is a great stop if you're into aviation history. Located inside the air force base just behind Adisucipto Airport, the museum showcases WWII era warplanes such as Tupolev Tu-16s, several MIGs, a North American P-51 Mustang, a F-86 Sabre, and several others.
Best Cultural Attractions in Yogyakarta
For regular arts and cultural shows in the centre of town, head down to the Bentara Budaya Yogyakarta. At the Keraton, you can enjoy the flowing sounds of gamelan at Bangsal Sri Manganti pavilion, performed live by a palace troupe, as well as Wayang Kulit Puppet Shows held regularly. You can also catch a Ramayana Ballet at Prambanan Temple, which is a great spectacle set against a majestic historical icon, with shows from 19:30, and weather-permitting. Tembi Rumah Budaya is a complex near the southern coast of Parangtritis that's dedicated to arts, where you can also partake in Batik demos. For traditional Javanese pottery, you can visit the heritage village of Kasongan.
Most travellers get their Jogja batiks and contemporary print and souvenir T-Shirts along Jalan Malioboro Street and the adjacent Malioboro Mall in the centre of town, with widely varying choices of quality and prices. Batik Winotosastro is an established name in batik, and has its own factory, showroom and batik workshops worth looking. Yogyakarta's contemporary shopping spots include the premier, 7-storey Plaza Ambarrukmo, the newer Lippomall Jogja, and the regal Jogja City Mall.
Yogyakarta Hotels - Where to Stay in Yogyakarta
Yogyakarta hotels come in an eclectic mix, ranging from budget hotels (since the town's popular among domestic and international backpackers) to luxurious ones that retain their traditional architectural features, décor and overall historical value. Here are some of our favourites, grouped by budget category.
Rate This Place:
( votes)