Sanur Beach is one of the first resort areas in Bali to see the influx of tourism which Bali has experienced over the past half century. Despite this, it remains rich in history and retains much of its laidback ambience from its earlier days, attracting a different type of crowd compared to the livelier scenes you will find in Kuta and Legian. Sanur features several small connected beaches that are all quiet, with a pleasant paved path where locals and expats enjoy morning jogs against the rising sun.
The coastline is shared by some of the island's earliest pioneering hotels and boutique resorts. Sites to see in Sanur include its collection of historical landmarks, such as the Le Mayeur Museum located right beside the beach art market, and the ancient and mysterious Blanjong inscription, well hidden behind the modern traffic and lines of restaurants and cafes. Here is our compilation of the 10 Best Attractions in Sanur for you to discover.
Interested in this tour? Book it here.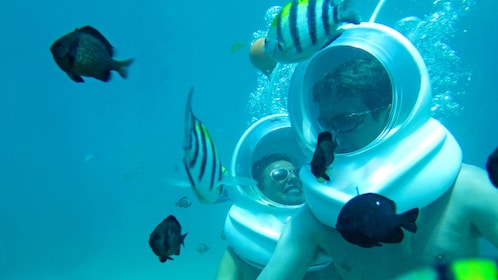 per traveler
Free cancellation
Book
The coastline of Sanur spans some 8km from north to south, between the coastal border of the Gianyar regency and the mangrove forest in southern Denpasar. Along this distance end to end, you will be able to enjoy several notable beaches, despite the whole being referred to as 'Sanur Beach'. The paved footpath connects all these coasts, and provides a great morning jogging track and scenic cycling routes. Starting from the south there is Mertasari Beach in the sub-village area of Blanjong, Semawang Beach accessible from Jalan Danau Poso, Pantai Karang or 'Reef Beach', Segara Ayu Beach, the main Sindhu Beach with the legendary Grand Bali Beach and where the footpath ends. Further north are the less popular beaches of Pantai Matahari Terbit or 'Sunrise Coast' and the black sand beach of Padanggalak. Read More...
A great activity for anyone who wishes to enjoy Bali's depths teeming with tropical marine life, the Bali Seawalker provides a safe and fun time out for families. Their pontoon is anchored five minutes offshore, from where you go under the waves from a ladder with a specially designed helmet, and then freely walk on the sand bed to view beautiful reefs with colourful fish. The 'sea walk' takes around 30 minutes, with certified and experienced guides overseeing the activity from above and below. The tour can be enjoyed by children aged 10 years up, and no diving experience or swimming skills are necessary, serving as a great educational and fun eye-opening opportunity for those with no prior diving experience. Read More...
Location: Sekar Menuh Building, Jalan Bypass Ngurah Rai No.5, Padanggalak, Sanur
Tel: +62 (0)361 281 408
Le Mayeur Museum is a hidden treasure located right on the main Sanur Beach of Sindhum behind the array of art and souvenir stalls. This memorial museum mainly houses the artworks and personal history of painter Adrien-Jean Le Mayeur de Merpres, a Brussels-born artist who was impressed by Bali and the shores of Sanur, where he dedicated his entire life to the two things he loved the most: its arts and its women. He fell in love with a Legong dancer, Ni Pollok, who he later married and became his muse, extensively featured in his oil paintings. The house consists of five rooms with the main building housing the couple's former living quarters, profuse with classical Balinese elements, sculpted stone walls and red terrazzo floor tiles. Read More...
Opening Hours: Mon – Fri, 08:00-14:00
Location: Jalan Hang Tuah, Sanur
Tel: +62 (0)361 286 201
Bali Sharks, also known as the Serangan Shark Island Project, is a private nature conservation initiative that has embarked on a mission to save black tip and white tip reef sharks, while providing visitors to Bali with the first environmentally-friendly tour of its kind in Indonesia. In close collaboration with the local Kelompok Nelayan Serangan fishermen's group, they have built a safe 10x10m pontoon nursery in the eastern waters of Serangan Island, which houses over a dozen pups. Tours are suited for all ages and allow participants to swim and snorkel with the pups, proving all that is wrong with the negative portrayals of sharks in Hollywood movies. The tour includes a turtle hatchery tour, a marine garden aquarium tour, as well as meals and refreshments. Read More...
Location: Agus Bar & Restaurant, Jalan Tukad Punggawa, Serangan Island
Tel: +62 (0)361 996 510 1
5
Pura Blanjong Temple and Stone Inscription
For those interested in Bali's history, Blanjong Temple, or Pura Blanjong, in the namesake sub-village area within the Intaran village on Sanur's south, houses one of Bali's oldest known artefacts in the form of a stone pillar with Sanskrit inscriptions. This stone pillar was believed to be some sort of victory monument, chiefly of King Sri Kesari Warmadewa, who on a conquest visited Bali in the 10th century and installed what was probably Bali's first formal government. In addition to the inscribed pillar, other relics at the Blanjong site include sandstone statues, such as the Hindu lord Ganesh and several animal figures. The temple is now considered a national cultural heritage site and welcomes public visitors down an alley just off Sanur's Jalan Danau Poso.
6
Turtle Conservation and Education Centre (TCEC)
Sea turtles, once a traditional commodity among the Balinese in the distant past, have turned to become a protected species, with major conservation efforts propping up around Bali. The Turtle Conservation and Education Centre (TCEC) that was set up on Serangan Island, is one of them. The TCEC serves as a hatchery, nursery and sanctuary for turtles accidentally caught by fishermen. The centre is open for the public and offers an educational day out, ideal for the whole family. A large variety of well shaded and open-air pools separate the turtles according size, with supervising staff ready to provide information and brief tours if they aren't busy cleaning and maintaining the pools or feeding the turtles. There is also a small sandy enclosure for tortoises, a hatchling pen and a small souvenir shop selling everything cute, colourful and turtle-related.
Opening Hours: 09:00 - 17:00
Location: Jalan Tukad Punggawa, Serangan Island
Tel: +62 (0)361 857 7881
Griya Santrian Gallery, located within the Griya Santrian boutique hotel in Sanur, is an open-air gallery that regularly hosts art exhibitions, book launches and art happenings featuring local and international artists. Easily one of the most reputable galleries of its kind in the Sanur area, it is definitely a must-visit for art and culture buffs. Almost every month, this gallery showcases various paintings and sculptures from artists who mainly focus on classical styles, with some notable living and late figures featured in the past including Syahrizal Koto, Ni Nyoman Sani, I Ketut Muja, Le Mayeur de Mempres, Auw Kok Heng and Sujana. Owned by the family who also spearheaded the annual Sanur Village Festival, the gallery has also played its part as one of the main art exhibition venues during the week-long festival, held since 2005.
Opening Hours: 09:00-21:00
Location: Griya Santrian, Jalan Danau Tamblingan 47, Sanur
Padanggalak Beach on the northern end of Sanur has a vast stretch of black sand and a grassy field, which is also the regular host of the annual Bali Kites Festival. The festival usually takes place around the windy season, between July and August, with confirmed dates following favourable weather conditions. It is one of Bali's major provincial calendar highlights presenting unique cultural scenes on par with the preceding the Bali Arts Festival. During the festival date, thousands of traditional kite troupes and youth groups from around Bali transport their gigantic kites to the beach using large trucks, with wingspans ranging between 5 to 10 meters. The skies are specked with a rare sight, and the process of take-off and landing are just as exciting, with the troupes manoeuvring in their droves. Read More...
The Bali Orchid Garden is a must-visit for flower lovers and gardening enthusiasts. It is located amidst the rows of local garden shops along the Bypass Tohpati road north of Sanur, which comprise a variety of lush open-air collections and stalls selling tropical flora. The Bali Orchid Garden is the only of its kind here providing tours, and inside you will encounter a world full of natural colours. The hectare of landscaped tropical gardens are available for guided tours where you can witness from up close the abundance in orchid species and admire various exotic tropical plants such as the rafflesia, anthuriums, and heliconia. The gardens provide a relaxing environment open for individual visitors, tour groups and private functions. Read More...
Location: Jalan Bypass Tohpati, Kusamba 1, Denpasar
Tel: +62 (0)361 466 010
The quirkiest place on this list is an abandoned theme park, the Taman Festival Bali, which saw only a slight of its heyday in 1997, but ultimately closed down three years later due to marketing and financial problems. Now considered a ghost town, literally by some of the locals who believe that long abandoned places are eventually inhabited by spirits of the 'unseen world', it is a favourite photo location for photographers looking for a desolate, post apocalyptic-like setting. This is due to the still erect but deteriorated structures of its main buildings with partly collapsed roofs, and ticket booths, a theatre and dining outlets covered in dust, moss and creeper vines. Large statues and ornamental figures around the courtyards and throughout its open spaces, which now stand under dense foliage, create an eerie sight even in broad daylight. Extra caution must be taken around the crumbling buildings. Read More...
Rate This Place:
( votes)